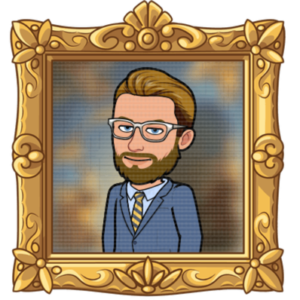 Hello Baldi Students & Families!
It is with great pleasure that we announce Baldi's Principal, Mr. Luke Hostetter as the recipient of the 2021 Lindback Distinguished Principal Award. This award recognizes distinguished principals who have made significant leadership and humanitarian contributions to his/her school community. While the 2020-2021 school year was unlike any other, Mr. Hostetter's drive and focus throughout the years in creating a school environment centered around growth, mindfulness, and joy has led to this incredible achievement. We all know Mr. Hostetter to be a passionate, warm, supportive agent of change. He has transformed Baldi's environment to support the needs of diverse learners, encouraged teachers to take on leadership roles, and has created a space to confront social injustices and promote equity in our day-to-day work.
We would be doing a disservice to Mr. Hostetter and this great achievement if we didn't highlight his acknowledgment of this award as being a collective effort of hard work and commitment of the entire Baldi staff to high-quality instruction, building relationships with students and families, and working towards a collective vision of empowering all students to be successful.
The mission of Baldi Middle School states, "Baldi Middle School prepares 100% of students to have the opportunity to go to the high school of their choice by empowering them with the skills and character to be successful". In the 2016-2017 school year, under Mr. Hostetter's leadership, we identified disproportionality in student data. Although our overall school performance data indicated that many of our students were on track for high school, upon closer look we found that our lowest-performing students were growing at a slower rate than their peers and as such would not be on track to go to the high school of their choice. Mr. Hostetter highlighted that our lowest-performing students were made up of a disproportionate amount of English Language Learners, Special Education Students, and students of color. He named this disproportionality and the achievement gaps within it as unacceptable and made it clear that it was our schools' responsibility to address the systemic inequity in our student outcome data.
Between 2017-2020, Mr. Hostetter established a robust instructional coaching model, developed an instructional leadership team to promote leadership within our building, set explicit goals around the growth of our students that were farthest behind, and developed new systems and practices to achieve our annual goals. Teachers worked tirelessly identifying "focus students", implementing research-based interventions, blended learning, and setting specific growth goals for students based on STAR data. Teachers utilized best practices identified by Mr. Hostetter and thoroughly engaged in instructional coaching, all to support the growth of our students. This work culminated in Baldi achieving the rank of "Model School" based on our SPR in 2018/2019, largely due to the growth of our lowest-performing students and the aspirational mission and leadership of our principal to address achievement gaps and disproportionality in our student outcomes.
The Lindback award is accompanied by a $20,000 stipend for principals to use to improve their school communities. We are fortunate at Baldi to be surrounded by an abundance of diversity. Serving families from Uzbekistan, Ukraine, Turkey, Nigeria, Haiti, Columbia, Brazil, and many more with intentions of providing their child with the best possible education is an incredible honor. Mr. Hostetter's vision for utilizing the $20,000 stipend is to service the greater Baldi community and the families of our English Learners by designing a 21st-century resource center for our EL families.
The resource center will serve over 200 families that receive English Language services and house our Bilingual counselors as well as our ESOL department. The center's goal would be to welcome, place and support our English learner families both at school and in the community. This project would require the installation of walls, new computers, translation equipment, and furniture The center would house school registration for new EL families entering our school. Our BCA's will welcome new families and introduce them to our school policies and procedures. They will also link families with any other community agencies that could support them as new immigrants. The long-term vision would be for the resource center to extend its impact to the greater Bustleton community and offer after-school programming, English night classes, new job support, and other parent resources. The community we serve in Bustleton continues to diversify and become more beautiful and unique. The addition of this resource center would celebrate our multiculturalism and propel our school mission of kindness and empowering all students to be successful.
There will be a virtual celebration held on April 20th. We will share a recording of the virtual celebration on April 21st.
Please join us in congratulating Mr. Hostetter on this incredible achievement.