---

---
2022 – 2023 School Year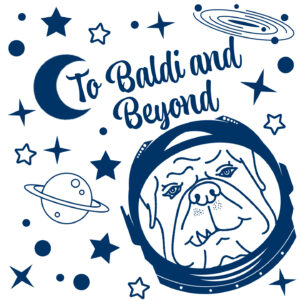 Please see below for the most important information for the new school year. We are ready to take our students and families to Baldi and Beyond through focusing on instruction, growth, diversity and supportive environments.  If you need information in a language other than English, please use the translation button at the top of the website or you can call 215-400-3090.
Rosters are available on Student portal and Parent portal!
Please make sure you have reviewed and purchased supplies on our 2022-2023 school supplies list .
School starts everyday at 8:15 AM! 
SEPTA buses will be available for students. Please make sure you have discussed and reviewed with your student SEPTA bus routes and your plans for the first day for transportation. Students will receive their SEPTA fare cards the first week of school.
Follow this link to join our School ClassDOJO! Class DOJO is our primary method for communicating with families. You will be able to join specific classrooms the first week of school
6th Grade Families: If you attended Fox Chase, Comly, Loesche or Anne Frank for 5th grade, your student is automatically registered.
 School COVID-19 Guidelines can be found at www.philasd.org. Please complete the COVID Testing Consent form as soon as possible. Masking will be required for all students August 29th – September 9th.
Our main office is open for phone calls 9 AM – 2:00 PM at 215-400-3090. Also please contact our Grade-Level Administrators with any specific questions.
6th Grade Assistant Principal – Julia Snyder – jsnyder@philasd.org
7th Grade Assistant Principal – Robin Mixon  – rdmixon@philasd.org
8th Grade Assistant Principal – Jennifer Nuskey – JLLevy@philasd.org
Principal – Special Education/ Elective Arts – Luke Hostetter – LHostetter@philasd.org
We are excited for a wonderful school year and to take our students to Baldi and Beyond!
---
Welcome New Baldi Administrators!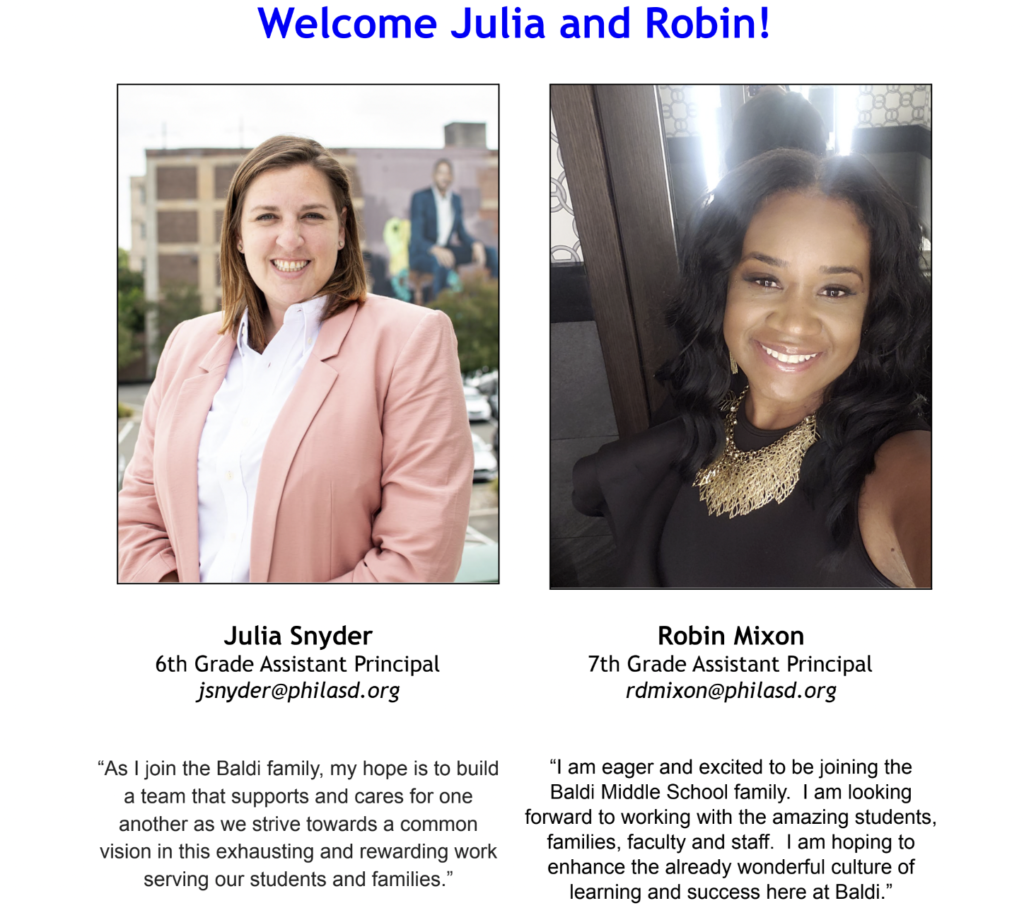 Read more about Robin and Julia
---
Baldi General Supply List: 2022-2023
This is a general supply list.  All teachers will share their specific supply list with their welcome letter during the first week of school.
Pencils–wooden or mechanical
Pens–blue and/or black
Highlighters
Post-it notes
College-Ruled Loose-leaf Notebook Paper
(3) Two-Pocket Folders
(5) Marble Copy Books
(2) Packs of 3×5 Index Cards
Earbuds or headphones
Box of Tissues (For Advisory Teacher Only)
Roll of Paper Towels (For Advisory Teacher Only)
Ream of White Copy Paper (For Advisory Teacher Only)
Bottle of Hand Sanitizer (For Advisory Teacher Only)
8th Grade ONLY – Combination Lock–Preferred Brand is Master Lock/Combination Only (No Key Locks)
Agenda/Homework Book
A novel for Independent Reading
Plan on bringing your School District-issued Chromebook and charger on the first day of school and every day.