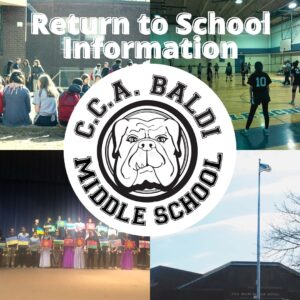 We are excited to welcome back 150 students on Monday, May 10th. Please find important information below:
TOWNHALL FOR FAMILIES RETURNING: 
Tomorrow, Tuesday, May 4th at 5:30 PM
COVID TESTING CONSENT: 
All Families must complete the COVID testing Consent form by this Friday, May 7th.
SEPTA BUS SCHEDULES:
Please carefully review the bus schedules to find your bus route. 
SEPTA Pick-up Time: 9:00 – 9:30 AM
SEPTA Drop-off Time: 4:30 PM
TRANSPORTATION FORM:
All Families must complete the Transportation form to share their plan for transportation.
SEPTA KEY CARD PICK-UP and CHROMEBOOK PICK-UP: 
Any students or families that need SEPTA Key Card (fare card) or a School District Computer can do some on the following days and times at our Art Patio (Entrance on Verree Rd, down the hill).
Thursday from 12 PM – 2 PM at the Art Patio
Friday – 9 AM – 11 AM
Any families that would like to change to virtual learning may contact our main office at 215-400-3090. We hope to see you tomorrow at our town hall!